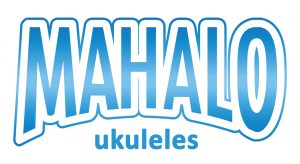 Mahalo, meaning "thank-you" or "gratitude in Hawai'ian, was the word chosen by Kikutani Music, a musical products distributor based in Nagoya, Japan as the brand name for their then, new range of ukuleles in 1999.
Originally manufactured in China for Kikutani, Mahalo ukuleles were developed with a promise to deliver a "real musical instrument experience at an entry-level price point". Prior to this, entry level ukes were generally considered toys and most were musically unplayable.
Initially, the range of Mahalo ukuleles was quite small, but as they were the first high quality, inexpensive, playable instrument on the market, the quantity sold into Japan was extraordinary.
At this point, the Chinese manufacturer of Mahalo, began distributing the brand around the world under license to Kikutani Music and quite literally became an enormous overnight success.
It's debatable to what degree Mahalo sparked the worldwide ukulele phenomenon, however there is no doubt that Mahalo played a part in the strong resurgence and popularity of the ukulele. The sheer quantities sold worldwide prior to and during the current ukulele boom underlines Mahalo's place as a major driving force in today's world ukulele market.
Mahalo is now the No. 1 selling ukulele brand in many countries and arguably, the world. Thousands of music stores around the world stock Mahalo as their main ukulele line. These experts do this because Mahalo ukuleles represent the very best value for money on the market! It's for this reason alone that millions of ukers around the world started their musical journeys on a Mahalo ukulele.
Mahalo is all about ukuleles. In fact, ukes are all we do, and we make them very well!
MAHALO UKULELES enjoy an inherent uniqueness whereby each step within Mahalo's manufacturing process is undertaken exclusively by Mahalo employees in our company-owned manufacturing plant in Surabaya, Indonesia.
Outsourcing of manufacturing is part of every business nowadays. However, keeping the entire process in house, from product design and materials sourcing through manufacturing to final quality control provides us with the quality, flexibility and control to exceed market demands. Mahalo ukuleles are proudly designed, built and tested by our extremely talented people from our own, purpose built, state-of-the-art facility.
OUR VISION
To be the world's leading manufacturer of ukuleles of excellent quality and value for money that enhance and inspire a lifetime of playing music.
OUR VALUES
At Mahalo we are committed to the highest standards of production, ethics and integrity. We care for our employees and their families, our customers and users of our products and the world in which we all live.
Every Mahalo instrument is built with a purpose – to provide the world with quality, affordable instruments that enhance and inspire a lifetime of playing music.
Every Mahalo Ukulele is craftsman built.
We use the best selected woods sustainably harvested from renewable forests.
We strive to conserve resources, preserve natural habitats and prevent pollution.
Our factories conform strictly to local and international labour laws.
Quality Control in all our factories is overseen by a highly qualified team of technicians employed exclusively by Mahalo who ensure our production and quality standards hold fast to our values.
Our purpose built factory in Surabaya, Indonesia, is committed to produce instruments with features and specifications of a higher standard to those offered by our competitors in similar price-points.

Mahalo is all about ukuleles. In fact, ukes are all we do, and we make them very well!